A proposed high-rise tower in Edina's Grandview District exceeds the height limits of the area, but the Edina City Council is evaluating whether the project is worthy of an exemption.
Reviewing the preliminary proposal this month, the council was largely supportive of the project, which would include a 17-story, 157-unit residential high-rise along with a 20,000-30,000-square-foot art center and senior center, plus a parcel of civic green space the size of a football field.
"It's that give to get," Councilmember Mike Fischer said, explaining that the 17 stories leave room at ground level for the civic space on the 3.3 acres of city-owned land, located across Highway 100 from Edina City Hall. "You know we're getting something here with that height."
As presented by Frauenshuh Commercial Real Estate, the project would also come with a three-story, 27-unit "artist loft" space that would satisfy the city's affordable housing requirements. The adjacent green space would cover a 430-stall parking ramp that would be used as a park-and-ride.
The green space would be the only park in the Grandview District, Dean Davolis of DJR Architects noted. However, to pave the way for the space to be developed as proposed, the city council would have to grant the developer an amendment to a Comprehensive Plan that guides the area for a maximum height of six stories.
Public feedback showed that the community is anxious to see the site redeveloped after sitting vacant for about five years, while the residential building's height was another theme of the feedback, according to Edina Economic Development Director Bill Neuendorf.
"It became apparent that some people are very concerned about tall buildings," Neuendorf said, noting that others viewed the height as a reasonable trade-off for the amenities the site would host.
As the city formulated a framework for redeveloping the Grandview District six years ago, planners did not envision the height proposed, "but they imagined every other aspect," Fischer said.
Considering that trade-off, the project better not feel like private development, Fischer said.
"It's got to be everyone's park," he said.
Another challenge is traffic in the area, also a common concern raised by the public.
The nearby intersection of Interlachen Boulevard and Vernon Avenue is "notoriously recognized by all of us as one of the worst intersections in our city," Councilmember Bob Stewart said. "I don't know that this does anything to improve that."
Councilmember Mary Brindle elaborated on the traffic question, envisioning a destination attracting large numbers of pedestrians.
"Eden Avenue is a very congested street," Brindle said. " … The pedestrian movement is one of the greatest challenges we have on Eden Avenue. So I don't know how to solve it. I'd like to get people off the street."
"We have to take that increased traffic seriously, and we have to take that pedestrian access seriously," she said, adding that drivers tend not to respect crosswalks in the area.
But council members were more enthusiastic than skeptical as they reviewed the preliminary proposal. Brindle was happy to see the proposal after others failed to come to fruition. "I'm part of the group that says finally, we've really got something. Finally. But Edina does not move quickly. I've learned that," she said.
Fischer envisioned the project's appeal as a potential landmark.
"As I look at this, I see at least three new locations for prom pictures," he said.
Mayor Jim Hovland suggested the project could evoke a memorable experience for visitors taking the steps up to the elevated green space atop the parking structure.
"There's some wonderful human sense that happens to you as you ascend those stairs," Hovland said.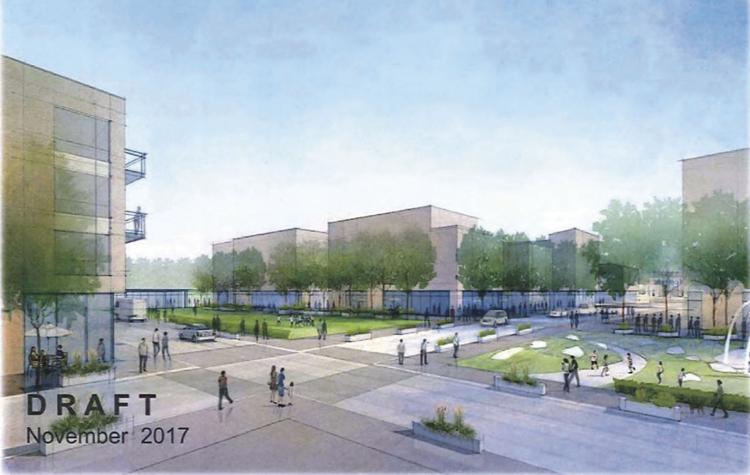 What about a community center?
Not everyone in Edina is excited about the proposal, though, and not just because of height or traffic concerns. Some residents are disappointed that plans for a comprehensive community center at the site did not develop further.
The art center should be more than an art center, Stewart said.
"I don't want to call it an art center," he said. "I think this is a civic space that needs to be much more than an art center."
The Edina School District uses a building that is labeled as a community center, but that doesn't have many of the features associated with proper community centers. That building has been increasingly used as an essential function of the school district, Councilmember Kevin Staunton pointed out.
"We have less and less of what we call a community center," he said.
Staunton wants any new community space at Grandview to be "a place where people know where to go to find out what's happening, and find out things that they can be engaged in."
At the same time, he was impressed with how closely the proposal hews to the initial vision for the site, referring to planning and brainstorming that envisioned sculpture space, a community garden, green space, a farmers market and a transit hub.
It was "pretty astounding," Staunton said, that "almost eight years later, many of these things are incorporated into this site."
That planning process envisioned a place that would be "our city center, our central park," Hovland said. "We have a chance here to kind of speak to the whole character of our community."
Amenities that are still desirable at the site but not part of current plans include space for the Edina Historical Society, Stewart said. "They would really love to have a little bit of space where they could show off some of the great historical things that they have collected on behalf of the city," he said.
Meanwhile, a 200-250-foot auditorium or recital hall "still strikes me as a really interesting concept," Stewart added. He suggested the civic building, which stands three stories tall as proposed, could be built another story taller to accommodate such a feature.
The artist lofts adjacent to the new art center and active adult center might not have to be set aside exclusively as affordable housing, Staunton said, suggesting the affordable units and the high-rise units might intermingle. "There might be a potential to blend that a little more," he said.
And of course, there is the project's cost to consider, Stewart noted. While demonstrating enthusiasm for the project on the whole, he added, "I'm a little gun-shy when it comes to endorsing things that have a big price tag on them. … We're going to have a business deal to discuss."
– Follow Andrew Wig on Twitter @EdinaSunCurrent
Thank you Edina Sun Current for keeping us all "current"!